Text
Corpse Disposal and the 'Imago Dei'
Calif. Lawmakers Seek Liquefaction as Alternative to Cremation
Apr 28, 2011 – 5:20 PM By Tori Richards
It sounds like the stuff of horror movies — placing a body in a steel tube and then covering it with a mixture of water and acid until most of the remains are liquefied.

But it's actually a scientific process called alkaline hydrolysis that is on track toward becoming an alternative to cremation in California. Lawmakers are unanimously supporting a bill that would legalize the procedure with heavy oversight at mortuaries and funeral homes. Last year Florida passed a similar law, but no business has a license to perform the procedure.

California Assemblyman Jeff Miller sponsored the bill when he learned that it was an eco-friendly alternative to cremation.

"California is famous for going green, not only just as a way of life but as a way of taking care of loved ones in end of life," said Miller's legislative director, Johannes Escudero.

The decomposition process occurs with water and potassium hydroxide, which is then heated for at least three hours. Tissue and organs are dissolved into the liquid, while the bone is left behind as an ashy mixture similar to a cremation. The leftover water is treated and then flushed down a drain.

The process is pollution free because it releases no greenhouse gases into the air.

Escudero told AOL News that people should not get caught up in the logistics of the operation.

"The idea of dumping someone down the drain is a misnomer. It creates the idea that you are dumping Grandma down the drain, and that's not the case at all," he said. "There is nothing more inhumane than burning a body, which is the case with cremation."

Only three places in the nation conduct this procedure on humans as a way to dispose of cadavers used for scientific research — the University of Southern California, the University of Florida and the Mayo Clinic in Minnesota.

A fourth, Edwards Funeral Service in Columbus, Ohio, has been using alkaline hydrolysis for two months without a permit. Last month state officials ordered owner Jeff Edwards to stop using alkaline hydrolysis process; Edwards says he plans to sue.
            Funeral director Jeff Edwards, of Edwards Funeral Service, is seen with his alkaline hydrolysis machine, which uses heat and lye to render body tissues to liquid. The state of Ohio has halted this burial technique, preventing Edwards from offering it to customers.

The procedure has at least one detractor.

"We believe this process, which enables a portion of human remains to be flushed down a drain, to be undignified," Patrick McGee, a spokesman for the Roman Catholic Diocese of Manchester, N.H., told The Associated Press.
                         WHAT DOES PROFETCETERA SAY?
But … what if I clog the pipes and they have to call RotoRooter? Not a fine end, methinks. At least it is eco-friendly! 'Go Green' — literally.
Maybe it's me, but Jeff Edwards looks rather like a cheesy horror flick villain, the kind of guy who'd invite you into his mortuary (I mean candy shop) for some licorice shoelaces or a malted — and then puree you in the slushee machine. I bet he could contract himself out to the Mafia and start generating some real cashflow!
How exactly does he sell this, um, service, to his target market?
"Well, it really is dignified and quite fitting — we simply return to the primoridal soup, the primeval slime, from whence we came. And for just three easy payments of …"
Now, I don't think there is biblical warrant either for or against any postmortem disposal method for our earthly remains. The Resurrection Body is a whole new creation, it seems to me, and the interim state of the atoms which — in some sense at least — make up You and I, well, that's just not important.
                                               Final Address?
                         Prepared for Cremation on the banks of the Ganges
                       Jeremy Bentham, Utilitarian philosopher, inventor of the
                        Panopticon, and the kind of guy who wanted his body
             preserved and left on public display … with his head between his feet.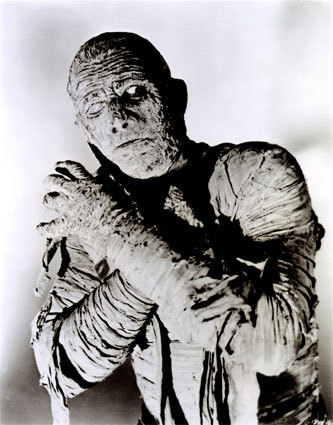 Boris Karloff as the Mummy
                                      Do not attempt this at home
An example of the curiously horrific Victorian fascination with postmortem photography, where dead bodies were dressed, propped up, and photographed as mementos of the funeral … Many families who were too poor to afford a photo portrait of a family member would nonetheless splurge for one right after they died, as a sort of final macabre token of the one who would soon be forever gone from their sight. Three children here are painfully uncomfortable while posing with their young, and recently deceased, sibling, who has been propped unconvincingly in a chair.
                                                    Mercedes
                                                                Used Hyundai
God is not a respecter of persons — nor need Christians be respecters of death, and varying post-death physical states. "The seas shall give up the dead." Why would an acid bath be exempt from that?
But I think the real issue lies elsewhere.
You have to do something with the bodies of the dead. You can't just … leave them scattered about, like unraked leaves. They must be hidden from view, stashed away, if not destroyed outright. They must be suppressed.
The imago dei is so powerful that seeing it in the final resolution — that silent, still, ultimate state, showing more clearly than ever all the wages of sin and the final installment payment for the Fall — is unbearable. Yes, we must prevent disease, yes, we must respect the dead, and mourn for them too, and then allow them to return to dust in peace and privacy.
But most of all we must suppress the truth that this is our end also, and this end, this final resolution, is a final degrading of the image of God in us, a payment and a penalty, a punishment and a premonition. God's debt has finally been collected. And for us, this is humiliation beyond comprehension.
But at the same time, this — the disposal of the body — is also our last chance, however perversely reversed, to attempt to eradicate the imago dei from our consciousness. We spend our lives suppressing the truth (Romans 1:18). When we are finally successful … we die. But only to find out then that we were wrong; thus does suppressed truth always haunt, and is in fact haunting itself. And it is then that we must suppress the body as image-bearer, even as we wish to preserve it in our memory, as in the Victorian postmortem photography. We try, one final time, to kill God's image in ourselves. So we imagine.
And we have the image to prove it.
profetcetera posted this